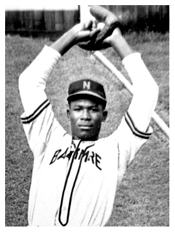 Ulysses "Slim" Hollimon turns 90 today! Hollimon was born on this date in 1931 in Amory, Mississippi. He pitched in the Negro Leagues from 1948 to 1956, most notably for the Birmingham Black Barons and the Baltimore Elite Giants. It appears that in 1956, Hollimon may have also pitched for the Class D Gainesville G-Men and the Class B Peoria Chiefs, both in the Cardinals' farm system.
After his baseball career, Hollimon attended Tennessee A&I College in Nashville, Tennessee, then worked for the Ford Motor Company for 33 years. He also coached Little League in Plattsburg, Missouri.
In 2008, Hollimon was chosen by the Kansas City Royals in the MLB Negro Leagues Player Draft.
Happy Birthday, Mr. Hollimon!
~ baseballrebecca